Katherine Mansfield: In From the Margin.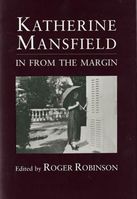 Edited with introduction by Roger Robinson. Louisiana State University Press, 1994.
This is a fine collection of original essays by international scholars (Britain, Canada, France, Greece, New Zealand, USA). It revolutionized the perception of Mansfield, previously dismissed as minor short story writer, to show her full originality and importance in ways that connect with Impressionist art, early cinema, the trauma of World War 1, "new age" spiritual movements, and changed relations between Britain and its former colonies.
A very few copies of Katherine Mansfield: In From the Margin (hardback) are available, personally signed by the editor, for US$30 plus US$3 S&H.
With all books, if you would like copies personalized, please indicate name(s) with preferred spelling and any other required detail, such as birthday. Buy this book: Order by email