Robert Louis Stevenson: His Best Pacific Writings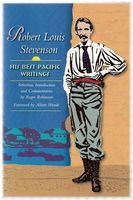 Published in USA, Australia and New Zealand, this important book was a finalist in New Zealand's annual Book Awards, and has become a key text for understanding the Pacific's remote island cultures. It puts Stevenson's pioneering writings about the region alongside penetrating new commentaries on his life and work there. It shows why the people of the Pacific loved their Scottish "tusitala" (writer of tales), and how his sympathy for them produced masterpieces that rank with Treasure Island andJekyll and Hyde. Fully illustrated, including images never before published.
Foreword by the Pacific's most eminent living author, Albert Wendt.
Robert Louis Stevenson: His Best Pacific Writings is available, personally signed, for US$15/NZ$20 plus US$5 S&H.
With all books, if you would like copies personalized, please indicate name(s) with preferred spelling and any other required detail, such as birthday.
Recommended visits: The Robert Louis Stevenson Silverado Museum at St Helena, CA, and the Robert Louis Stevenson Memorial Cottage at Saranac Lake, NY, are both warmly hospitable and offer excellent collections of memorabilia, pictures and books. Saranac Lake also has the Robert Louis Stevenson Tearoom, run by enthusiasts for RLS and gourmet food, a memorable combination.  
Buy this book: Order by email
Also available (not signed) in New Zealand from [email protected]