The Story of Hong Gildong by Hur Kyun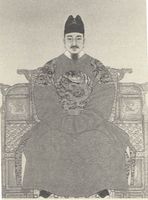 Translated by Yong Ho Ko. Abridged English version and introduction by Roger Robinson.
A literary rarity. If you want to learn something of classic Korean literature, this 14-page abridgment of a traditional Middle Ages story makes a fascinating short introduction. Gildong is a cross between Robin Hood and Houdini, magically escaping imprisonment, killing monsters and brigands, and also (like Robin Hood) symbolizing the emerging nationhood of Korea.
The booklet arose when Professor Robinson supervised a Korean graduate student who researched and translated the difficult 15th century novel. They felt it deserved a wider English-language readership, at least in abbreviated form.
Paper cover, stapled, 16 pages, limited edition, US$8 and free shiipping. Not otherwise available.
With all books, if you would like copies personalized, please indicate name(s) with preferred spelling and any other required detail, such as birthday.
Buy this book: Order by email